About Green Rose Cleaning Services
Our mission is to provide an honest, trustworthy source for professional cleaning services. We have over 10 years experience in residential and commercial cleaning. Recognizing the deep level of trust that is given to a cleaning company by its clients, we carefully screen all employees and train to approach each job with professionalism and integrity.
At Green Rose Cleaning Services, we are family owned and operated cleaning company. We take pride in our business. We are not just employees hired to do a house cleaning job. It is our passion and our reputation.
We are licensed, bonded and fully insured for your peace of mind.
We offer commercial and residential cleaning services in Northern Bay Area including Napa, American Canyon, Fairfield, Vacaville, Vallejo, Benicia, Martinez, Concord and Walnut Creek.
We customize a cleaning schedule to fit YOUR needs.
If you are seeking a house cleaning company for the first time or are looking to replace your existing cleaning service company, give us a try. At Green Rose Cleaning Services we realize that there are no two customers with the same needs or wants. We will provide cleaning services as often as you want. Whether once a day, weekly, once a month, or any number of times in between.
Our goal is to provide you with the best cleaning services in Solano County and surround areas. We work with businesses, homeowners, property managers, real estate agents and tenants.
Our goal is Your satisfaction (of course after our cleaning work). Office Phone works around the clock (24/7).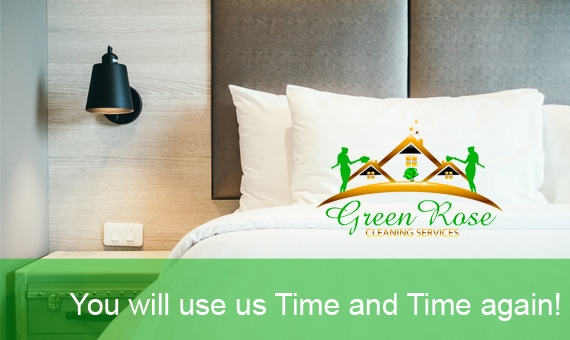 Client oriented: We serve our clients as if we were serving ourselves. We value their feedback and we use it to improve our work.
Eco-Friendly Oriented: We carefully choose the best and most natural cleaning products that give amazing results.
Excellence and Innovation: We provide training to our personnel in order to ensure the high standard of service. We stay up-to-date on the latest innovations in eco-friendly products and technologies, allowing us to bring the best in to our clients' homes.
Expansion / Growth: we make ourselves known in the community; we create long term relations, while constantly expanding. Therefore, we are always bringing in more people to work for us.
Choose us because of our reputation for excellence. For more than 10 years, we've earned a name for quality and customer service. The homeowners we serve rely on us for detail-oriented, consistent cleaning services, every single time we clean their homes.
With Us, Your Satisfaction Is Guaranteed
The experts at Green Rose Cleaning Services are committed to providing thorough house cleaning services for our valued customers nationwide. In order to accomplish this goal, we adhere to strict standards that remain consistent across the board.
Our Bonded & Insured Cleaning Team
Our company is fully bonded and insured, which means you can have peace of mind when you hire us as your residential cleaning company. Helping our customers feel confident in our services is very important to us
Our Teams Consist of Fully Trained Employees
It means every individual hired at Green Rose Cleaning Services goes through a thorough screening process, and then is trained in every aspect of our home cleaning services. This ensures high-quality service every time.
We Guarantee Our Work
Green Rose Cleaning Services strives to provide the highest level of quality, service and value to each and every customer. If you are not completely satisfied with our service, please inform us within 24 hours of your clean so we may resolve the situation.
Locally Owned Home Cleaning Services
Life is just too short to clean your own home. You should be able to enjoy peace of mind knowing that your home is in good hands, while focusing on things that matter more to you, such as your family and loved ones.
Free Over the Phone Estimates
Green Rose Cleaning Services is the key to keeping a beautiful home while making more time for yourself and the things you love most. Contact us for a FREE estimate.